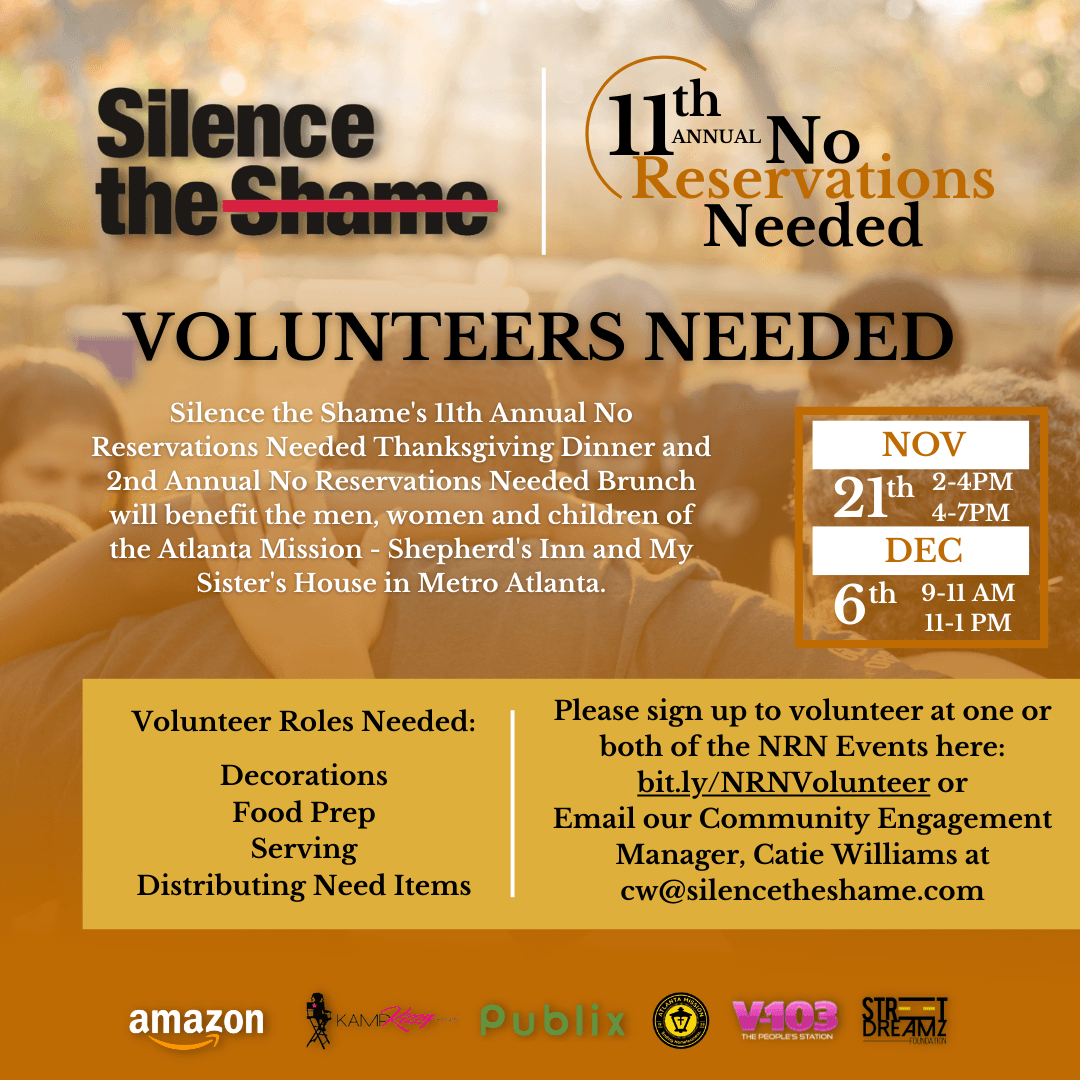 As of January 2020, Georgia had an estimated 10,234 experiencing homelessness on any given day[1]. Studies show that homelessness can be a traumatic event that influences a person's symptoms of mental illness. Having ever been homeless and the time spent homeless can be related to higher levels of psychiatric distress, higher levels of alcohol use, and lower levels of perceived recovery in people with previous mental illness.[2] 
No Reservations Needed (NRN) is a homeless outreach initiative to bring awareness to the economic instability in our communities and promote mental well-being. NRN aims to empower citizens to give back and advocate for strategies to rise above poverty, increase employment opportunities, and capture voices to strengthen communities. We have partnered with the Atlanta Mission to serve authentic holiday meals to over 400 men annually to promote social connectedness and healthy living. In addition, STS has partnered with V-103 Radio Station, Keisha Knight Pulliam, and several other influencers, sports figures, and community leaders to empower the men to keep achieving their housing goals. Last year, with the support of Breakfast at Barneys & Amazon, we initiated Holiday Brunch for My Sister House, Women, and Children Shelter.  
This year, we will host NRN with the Atlanta Mission Men Shelter on November 21, 2022, and a Holiday Brunch on December 6, 2022, for My Sister's House Women and Children Shelter. We hope to support 500 men, women, and children this year. NRN engages volunteers in collecting donations for food, hygiene products, and other basic needs items requested by the shelter. Volunteers can also support food preparation, decorations, and serving of authentic holiday meals for men, women, and children.
Consider becoming a sponsor or donating either cash or an in-kind gift. Your gift will support the homeless and educate communities on mental health prevention, interventions, and recovery. In addition, you can help erase the stigma of mental illness in underserved populations.
[1] Continuums of Care to the U.S. Department of Housing and Urban Development (HUD)
[2] Homelessness and Mental Illness: A Challenge to Our Society. (2018) Peter Tarr, Ph.D. Retrieved 8/2021 https://www.bbrfoundation.org/blog/homelessness-and-mental-illness-challenge-our-society
Thanks to Our Partners