Mental Health Resources
---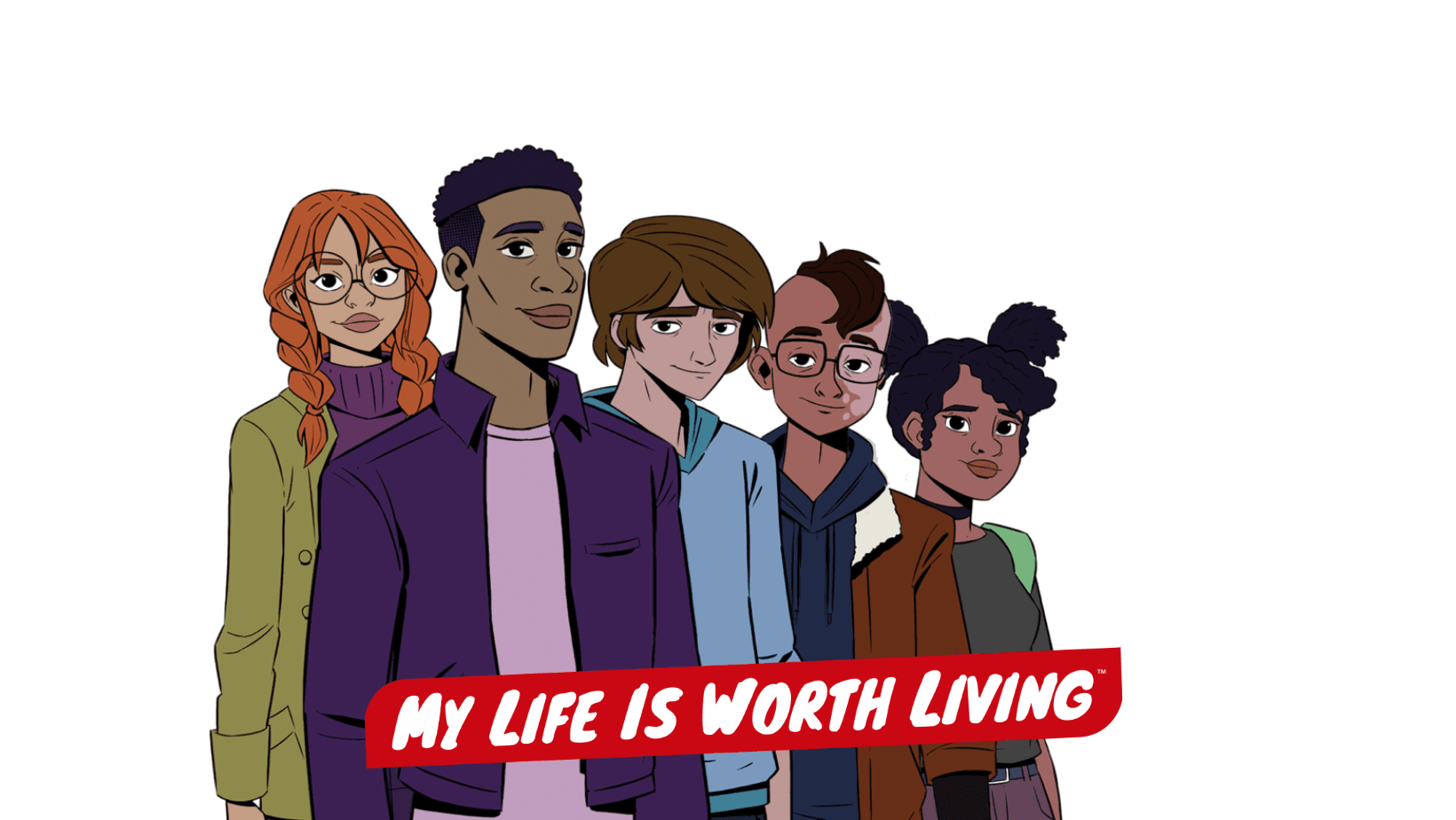 My Life is Worth Living is the world's first animated series about teen mental health and suicide prevention. The series includes five powerful stories told over twenty episodes. In each episode, relatable teen characters wrestle with challenges that are all too familiar for many viewers–including depression, bullying, abuse, and trauma–and discover strategies to cope when it feels like their own thoughts are against them. Over the course of each character's journey, they realize that life is worth living.
---
Mental Health Resource Directory
Suicide Prevention Hotline: 1-800-273-8255
The National Suicide Prevention Lifeline is a United States-based suicide prevention network of over 160 crisis centers that provides 24/7 service via a toll-free hotline with the number 1-800-273-8255. It is available to anyone in suicidal crisis or emotional distress. 
Crisis Text Line: Text "Silence" to 741741
Crisis Text Line provides free, 24/7 support via text message. We're here for everything: anxiety, depression, suicide, school.

California Council of Community
California Council of Community Behavioral Health Agencies (CBHA) is a statewide association of mental health and substance use disorder non-profit community agencies serving over 800,000 Californians across the State. To learn more, click here to watch a video about our work or visit us at cccbha.org. 
Georgia Department of Behavioral Health & Developmental Disabilities
The Georgia Department of Behavioral Health and Developmental Disabilities provides treatment and support services to people with mental health challenges.
Black Emotional and Mental Health Collective (BEAM)
Group aimed at removing the barriers that Black people experience getting access to or staying connected with emotional health care and healing. They do this through education, training, advocacy and the creative arts.
Asian American Health Initiative (AAHI)
AAHI is a health and wellness initiative of Maryland's Montgomery County Department of Health and Human Services. Its website is available in four Asian languages: Traditional Chinese, Hindi, Korean and Vietnamese.
Black Men Heal
Limited and selective free mental health service opportunities for Black men.
Black Mental Health Alliance — (410) 338-2642
Provides information and resources and a "Find a Therapist" locator to connect with a culturally competent mental health professional.
Asian American Psychological Association (AAPA)
AAPA is a San Francisco-based non-profit organization of Asian American mental health professionals, with the mission of advancing the mental health and well-being of Asian American communities through research, professional practice, education and policy.
Black Mental Wellness
Provides access to evidence-based information and resources about mental health and behavioral health topics from a Black perspective, as well as training opportunities for students and professionals.
SAMHSA Hotline:  1-800-662-HELP (4357)
SAMHSA's National Helpline is a free, confidential, 24/7, 365-day-a-year treatment referral and information service (in English and Spanish) for individuals and families facing mental and/or substance use disorders.
Black Women's Health Imperative
Organization advancing health equity and social justice for Black women through policy, advocacy, education, research and leadership development.
Asian Mental Health Collective
A new global non-profit organization with the mission of normalizing and de-stigmatizing mental health within the Asian community through projects such as Facebook group, resource library, video web-series and meet-up groups.
Boris Lawrence Henson Foundation
BLHF has launched the COVID-19 Free Virtual Therapy Support Campaign to raise money for mental health services provided by licensed clinicians in our network. Individuals with life-changing stressors and anxiety related to the coronavirus will have the cost for up to five (5) individual sessions defrayed on a first come, first serve basis until all funds are committed or exhausted.
National Council for WellBeing
To locate mental health and addictions treatment facilities in your community, use the "Find a Provider" feature on the National Council's website.
Asian & Pacific Islander American Health Forum (APIAHF)
Founded in 1986, APIAHF influences policy, mobilizes communities, and strengthens programs and organizations to improve the health of Asian Americans, Native Hawaiians and Pacific Islanders.
Brother You're on My Mind
An initiative launched by Omega Psi Phi Fraternity, Inc. and NIMHD to raise awareness of the mental health challenges associated with depression and stress that affect Black men and families. Website offers an online toolkit that provides Omega Psi Phi Fraternity chapters with the materials needed to educate fellow fraternity brothers and community members on depression and stress in Black men.
Asian Pride Project
Asian Pride Project is a nonprofit organization that celebrates the journeys, triumphs and struggles of LGBTQ individuals and Asian and Pacific Islander (API) families and communities through the use of arts — film, video, photography and the written word — as a medium for social justice and advocacy.
Recovery International
Recovery International, a self-help mental health organization, sponsors weekly group peer-led meetings in many communities, as well as telephone and Internet-based meetings. Click "Find a Meeting" to find the next Recovery International meeting in your area.
The Trevor Project
The Trevor Project provides 24/7 crisis support services to LGBTQ young people. Text, chat, or call anytime to reach a trained counselor
Veteran's Crisis Line: 1-800-273-8255 and Press 1
24/7, confidential crisis support for Veterans and their loved ones.
Ebony's Mental Health Resources by State
List of Black-owned and focused mental health resources by state as compiled by Ebony magazine.
National Empowerment Center
The mission of the National Empowerment Center is to carry a message of recovery, empowerment, hope and healing to those diagnosed with a mental illness. The center provides information and advocacy resources.
Chinese-American Family Alliance for Mental Health (CAFAMH)
CAFAMH is a NYC-based nonprofit organization that seeks to promote self-empowerment and mutual support among Chinese-American caregivers of individuals with mental illness by providing a safe space for family support group meetings.
The Loveland Foundation
The Loveland Foundation offers financial assistance to Black women & girls seeking therapy
Hurdle
Provides culturally sensitive self-care support and teletherapy for Black men and their families. Currently in pilot program available only to residents of MD, VA and DC. Residents of other states can join their waiting list and will be notified when Hurdle is available in their state.
Overeaters Anonymous
Overeaters Anonymous (OA) is a community of people who support each other in order to recover from compulsive eating and food behaviors. We welcome everyone who feels they have a problem with food.
National Queer Asian Pacific Islander Alliance (NQAPIA)
NQAPIA is a federation of lesbian, gay, bisexual and transgender Asian American, South Asian, Southeast Asian and Pacific Islander (AAPI) organizations.
Melanin and Mental Health
Connects individuals with culturally competent clinicians committed to serving the mental health needs of Black & Latinx/Hispanic communities. Promotes the growth and healing of diverse communities through its website, online directory and events.
Innopsych
InnoPsych's mission is to bring healing to communities of color by changing the face and feel of therapy. They strive to make therapists of color more visible in the community by creating a path to wellness-themed business ownership; to make it faster (and easier) for people of color to match with a therapist of color; and to create a major shift in how communities of color (or POCs) view therapy.
NAMI Helpline: 800-950-NAMI (6264)
The NAMI HelpLine is a free, nationwide peer-support service providing information, resource referrals and support to people living with a mental health condition, their family members and caregivers, mental health providers and the public. 

Depression and Bipolar Support Alliance
Use the "Find a Support Group Near You" tool on the Depression and Bipolar Support Alliance website to find out if a support group is meeting in your area. These are peer-led support groups.
Ourselves Black
Provides information on promoting mental health and developing positive coping mechanisms through a podcast, online magazine and online discussion groups.
National Institute of Mental Illness
The National Institute of Mental Health website provides prevalence statistics pertaining to mental illnesses, including data by age, gender and race.
POC Online Classroom
Contains readings on the importance of self care, mental health care, and healing for people of color and within activist movements.
Safe Black Space
Safe Black Space is the umbrella under which various services are offered to address people of African ancestry's individual and community reactions to cultural and racial trauma.
Sista Afya
Organization that provides mental wellness education, resource connection and community support for Black women.

Postpartum Support International:800-944-4PPD (4773)
Postpartum Support International's (PSI) website includes resources for support, education and local providers focusing on the emotional changes that women experience during pregnancy and postpartum, including postpartum depression. PSI's toll-free help line is staffed by a team of trained responders who rapidly refer callers to appropriate local resources, including emergency services. 800-944-4PPD (4773)
American Foundation for Suicide Prevention
The American Foundation for Suicide Prevention (AFSP) provides information about suicide, support for survivors, prevention, research and more.
Therapy for Black Girls
Online space dedicated to encouraging the mental wellness of Black women and girls. Offers listing of mental health professionals across the country who provide high quality, culturally competent services to Black women and girls, an informational podcast and an online support community.
National Domestic Violence Hotline: 800.799.SAFE (7233)
Everyone deserves relationships free from domestic violence. When you're ready, we're here to listen with confidential support 24/7/365.
Suicide Prevention Resource Center
The Suicide Prevention Resource Center has fact sheets on suicide by state and by population characteristics, as well as on many other subjects.
The SIWE Project
Non-profit dedicated to promoting mental health awareness throughout the global Black community.
Therapy for LatinX
Therapy for LatinX serves as a database of therapists who either identify as LatinX or have worked closely with LatinX communities and understands their needs.
The Steve Fund
Organization focused on supporting the mental health and emotional well-being of young people of color.
S.A.F.E. Alternatives (Self-Abuse Finally Ends)
S.A.F.E. Alternatives is a residential treatment program for people who engage in self-injury. The website includes information about self-injury and about starting treatment. S.A.F.E information line: 1-800-DONT CUT (366-8288)
Center for Native American Youth
The Center for Native American Youth (CNAY) at the Aspen Institute is a national education and advocacy organization that works alongside Native youth—ages 24 and under—on reservations, in rural villages and urban spaces across the country to improve their health, safety, and overall well- being. 
Unapologetically Us
Online community for Black women to seek support.
---
Disclaimer
This leaflet provides information, not advice.
The content in this brochure is provided for general information only. It is not intended to, and does not, amount to advice you should rely on for healthcare. Furthermore, it is not in any way an alternative to specific advice.
Therefore, you must obtain the relevant professional or specialist advice before taking, or refraining from, any action based on the information in this leaflet.
If you have questions about any medical matter, you should consult your doctor or other professional healthcare providers without delay.
If you think you are experiencing any medical condition, you should seek immediate medical attention from a doctor or other professional healthcare provider.
Although we make reasonable efforts to compile accurate information in our leaflets and update our brochures, we make no representations, warranties, or guarantees, whether express or implied, that the content in this brochure is accurate, complete, or up to date.