Dante's Story
Dante is outgoing with friends, confident in school, and a strong member of his football team; no one would suspect that he feels utterly depressed and trapped by the expectations of his family and peers. Now approaching graduation, Dante can no longer bear the pain of hiding his passions and his identity from his father, friends, and himself.
As he struggles to overcome the feelings of hopelessness that have characterized his teen years, Dante will find unexpected allies in his football coach and the coach's son, a mental health mentor. He will also learn that his conflicts with his father are not his fault, that he is strong enough to control the Negative voice in his head, and that he is worthy of love and support.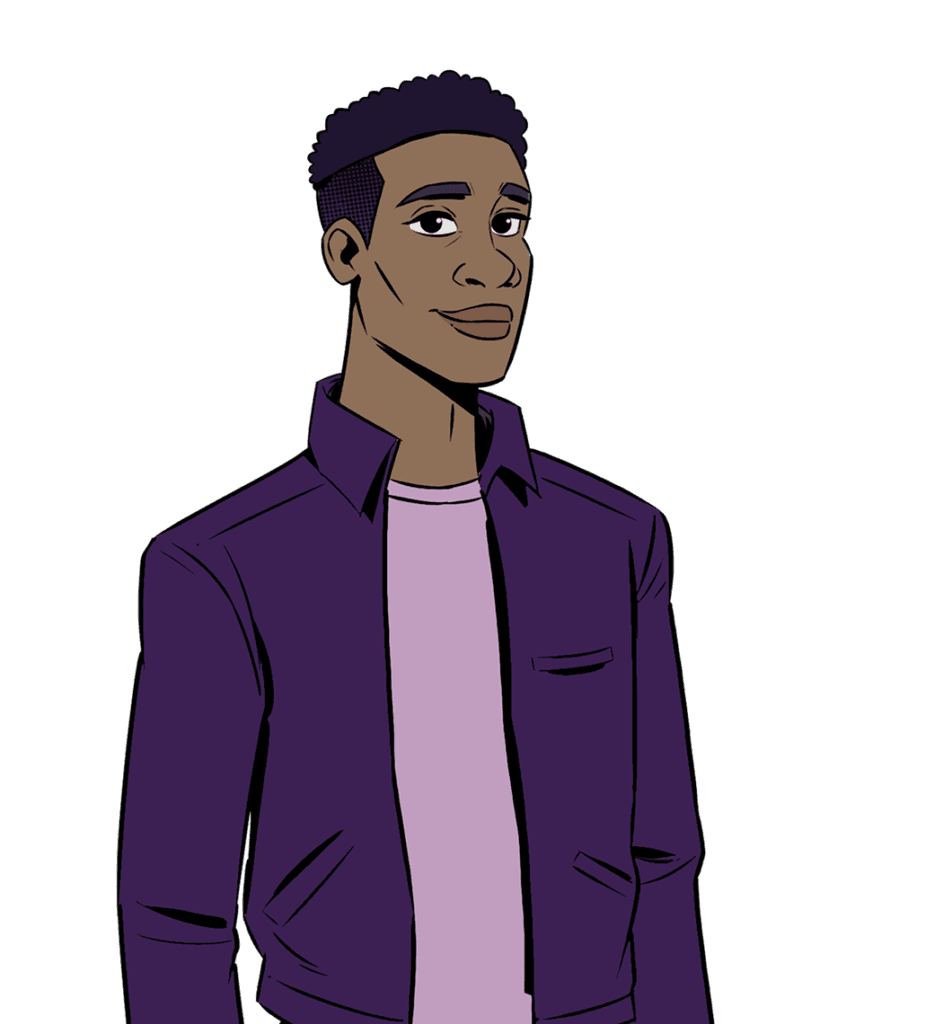 EPISODE 1: DANTE'S DILEMMA
To his friends and father, Bruce, Dante is a popular high school football player on track for college and a "respectable" career. Behind closed doors, however, he hides a long-repressed identity and a passion for art. Now with graduation on the horizon, a lifetime of living up to his father's rigid expectations causes Dante to dwell in negative thoughts and traumatic memories. Torn between the life he wants and the life he thinks he's supposed to lead, Dante tries to bury that secret part of himself for good – by destroying his art. Before he can, however, some unexpected support helps him gain the confidence to accept his passion and himself.
EPISODE THREE: DANTE'S DECISION
After gaining some needed validation and growing more comfortable with his identity, Dante decides to quit the football team and pursue art. One problem: he hasn't told his dad. His friend Eric is sympathetic to his plight, but when mixed signals at Eric's house result in a humiliating exchange, Dante spirals back into negative thinking. This time, however, Dante has a mentor in Scott, Coach Nelson's son. With Scott's support, Dante finds he can cope with the negative voice in his head and take on challenges like the misunderstanding with Eric - and sharing his true identity and dreams with his dad.
EPISODE TWO: COACHING DANTE
After being teased by his teammates after the big game, Dante gets overwhelmed by his negative thoughts, driving him to punch a mirror in the locker room. Seeing the situation, Coach Nelson asks Dante into his office. Rather than chastise him for his behavior, however, Coach Nelson offers Dante validation and understanding. He tells Dante a personal story about his struggle to accept his son Scott – echoing Dante's own conflicts with his father, Bruce. Dante finds an unexpected ally in his coach and in Scott, now a mental health supporter who happily meets with Dante to offer him advice.
EPISODE FOUR: DANTE'S STORY
Months of progress have given Dante the confidence to share about his struggles with negative thinking at a mental health fair organized by Scott. Dante recounts the confrontation that erupted when he told his father that he quit football, and how painting became a coping skill that helps him deal with his negative thoughts. Unknown to Dante, the event has an unexpected attendee – his father. While at the fair, Bruce hears Dante's story and cannot help but be proud of his son. Meeting up with Dante after his talk, Bruce reconciles with Dante.