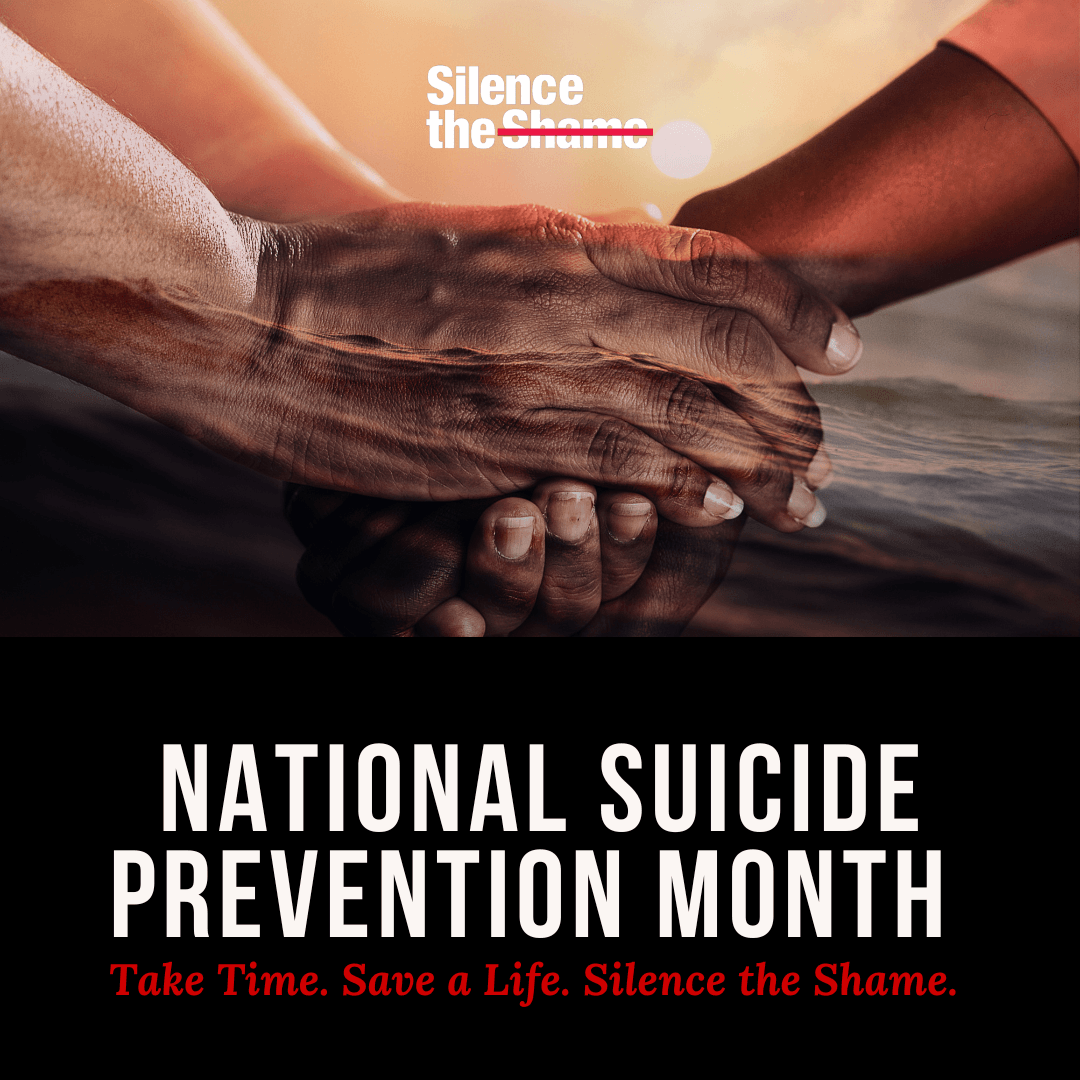 ATLANTA, GA (September 1, 2023) - Silence the Shame, a national nonprofit that promotes mental health and well-being is proud to support September as Suicide Prevention Month. This important initiative aims to raise awareness about suicide prevention, reduce mental health stigma, and provide resources to those in need.
Suicide is a tragic and preventable public health issue that affects individuals, families, and communities worldwide. According to the CDC, at least 49,449 lives were lost due to intentional self-harm in 2022 in the US. The suicide rate spiked in 2021, reversing two years of decline. And with the continued increase in 2022, rates surpassed the previous record from 2018. These alarming statistics highlight the urgent need for increased efforts to prevent suicide and support those at risk.
"Prevention is at the core of Silence the Shame, focusing on equipping individuals, families, and communities with the knowledge and tools necessary to identify warning signs and intervene effectively," said Shanti Das, CEO and Founder of Silence the Shame.
Throughout September, Silence the Shame will actively participate in various activities and campaigns to promote suicide prevention. The organization will host Youth Mental Wellness COPE Clinics & Free Your Feels Teens Summits to offer healthy coping options to teens throughout Georgia. In addition, Silence the Shame is proud to announce our Youth Mental Health Awareness Campaign to offer the Atlanta Metro area resources and tools to support teen resilience including virtual mental wellness seminars on Understanding Addiction and Suicide Awareness in the Workplace. Finally, the annual My Life is a Gift Suicide Awareness Summit is scheduled for September 30, 2023. Attendees will learn strategies for reducing health disparities for Black boys and men, preventing suicide, and promoting practical strategies for healthy living. The summit will make a difference partly by fostering open conversations about mental health, providing education and resources, and offering support.
Silence the Shame encourages individuals, organizations, and communities to engage in spreading awareness and taking action during Suicide Prevention Month and offers a few ways to get involved:
1. Educate Yourself: Learn about the warning signs of suicide and how to support someone in crisis. Knowledge is key to identifying and intervening in potentially life-threatening situations.
2. Promote Mental Health: Encourage open dialogue about mental health and destigmatize seeking help. By creating a supportive environment, we can empower individuals to seek the assistance they need.
3. Share Resources: Spread the word about helplines such as 988, support groups, and mental health services available in your community. Sharing these resources can be a lifeline for those who may be struggling.
4. Get Involved: Participate in local events, fundraisers, or volunteer opportunities for suicide prevention. Working together can create a stronger support network for those in crisis.
Silence the Shame remains committed to advocating for mental health and suicide prevention throughout the year including raising awareness, supporting those in need, and ultimately saving lives.
For more information on Suicide Prevention Month and how you can make a difference, please visit www.silencetheshame.com.
Call or text the 988 Suicide & Crisis Lifeline at 988. The Lifeline provides 24-hour, confidential support to anyone in suicidal crisis or emotional distress.
Media inquiries and interview requests with Shanti Das, founder of Silence the Shame, can be directed to executiveadmin@silencetheshame.com.
###
About Silence the Shame
Silence the Shame, Inc. is a national mental health education and awareness non-profit organization dedicated to eliminating mental health stigma and reducing health disparities and suicide rates among black youth, adults, and other marginalized populations. We exist to empower and educate communities on mental health and wellness. We work to redefine mental health beyond illnesses and how we care for ourselves.