In partnership with the Atlanta Hawks, Silence the Shame presents a Teen Wellness Clinic that will take place at the MLK Recreation Center on Saturday, May 7, 2022, from 10 AM - 2:30 PM. This clinic is designed to support teens 13-15 years old with youth development, leadership, and personal resiliency. In addition, youth will hear from members of the sports and entertainment industry on how to be open about their mental health and practice ways to maintain well-being.
Teen participants MUST be 13-15 years old and reside within the Atlanta Metro area. Parents/Guardians are REQUIRED to complete the registration via Eventbrite and complete a waiver that will be sent via email. Tickets are limited. Participants and volunteers will be requested to comply with the venue's safety/COVID protocols. Transportation is NOT provided through Silence the Shame or the Atlanta Hawks; teens must secure personal means of transportation to and from the event.
General Event Agenda:
9:00 AM - Check-in starts (teen drop-off)
10:00 AM - Fireside Chat
11:00 AM - Wellness Activity (teens will be physically active)
12:00 PM - Lunch
12:40 PM - 1:45P PM - Mental Health & Wellness Breakout Sessions
2:00 PM - Silent Disco Party
2:30 PM - End of event
If you would like to attend as a parent volunteer, please connect with our Community Engagement Manager, Catie Williams, at cw@silencetheshame.com.
Registering your teen(s) through Eventbrite is only Step 1 of 2 for the registration process. As we move closer to the event, you will receive a waiver to complete the registration process for your teen(s). The waiver must be signed for your teen(s) to participate in the event, and failure to complete the waiver will result in denied entrance to the event.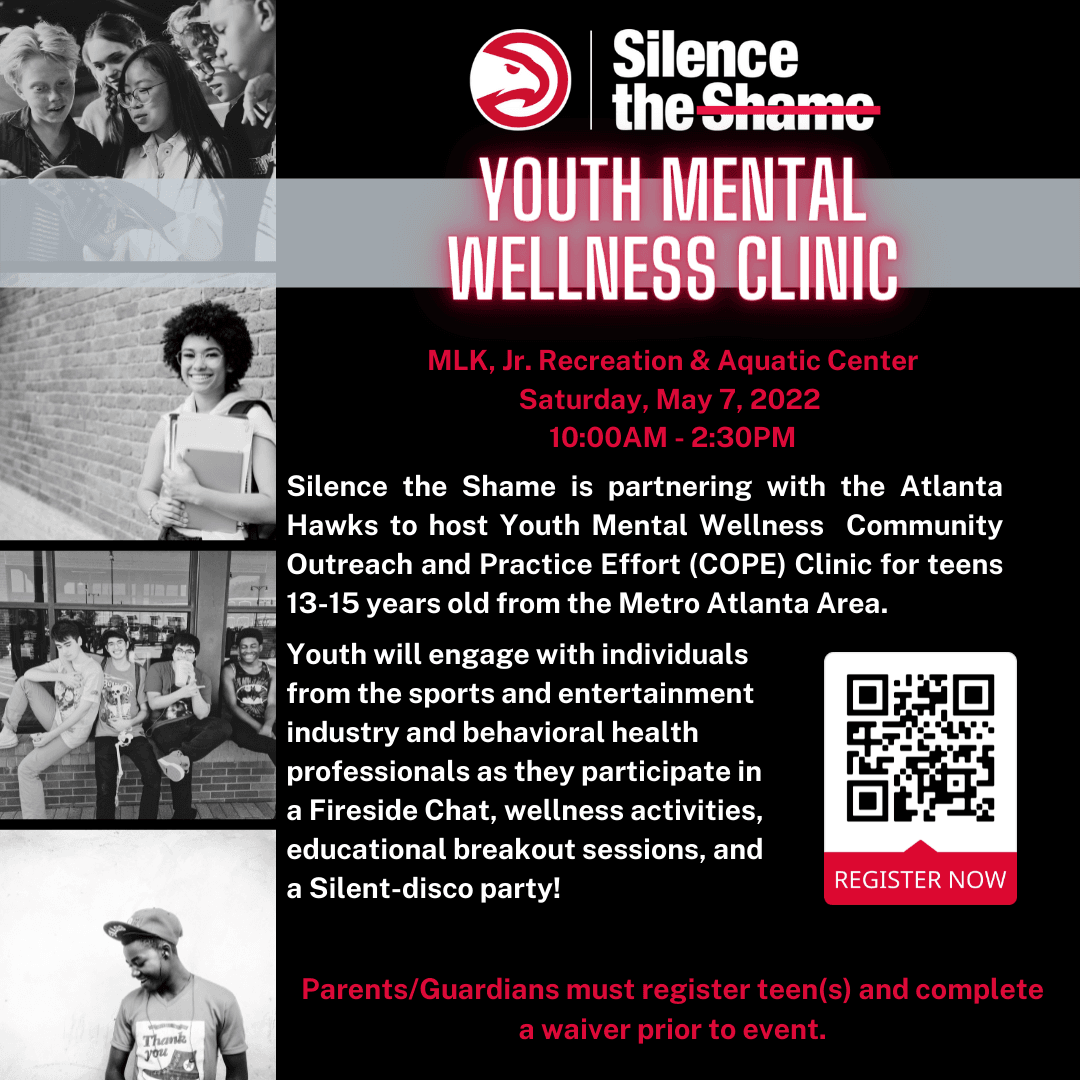 This year, we are excited to partner with the Atlanta Hawks to pilot the inaugural Youth Mental Wellness "Community Outreach & Practice Effort C.O.P.E Clinic," a youth resiliency support pilot program designed to improve youth development and leadership personal resiliency using sports and music. The clinic is an immersive experience of hope where participants hear from members of the sports and entertainment industry intersecting with mental health & wellness. The goals of the collective experience of the program include: 
Increased mental health literacy for underserved and at-risk youth 13-15 years of age  
Increased positive experiences and positive relationships to support positive youth development for at-risk or vulnerable youth  
Mental wellness promotion & awareness to synthesize and normalize conversations around mental health  
Increased community engagement in supporting youth resiliency and social connectedness 
The C.O.P.E Clinic will feature three engagement opportunities: a virtual courtside chat, an immersive one-day summit, and community engagement and practice activities. This Courtside Chat is moderated by Founder Shanti Das, featuring recording artist and actress Chlöe Bailey and ATL Hawks All-Star Player Trae Young. They share messages for teens about mental wellness, healthy coping strategies, and how to practice ways to maintain well-being. 
Students, alongside their parents, guardians, mentors, or teachers, will register to receive access to the pre-recorded video. While watching the video, or soon after that, students may want to share their views on what is being discussed within the video. Silence the Shame will be providing resources to help support these discussions and offer additional educational materials for students and caregivers.